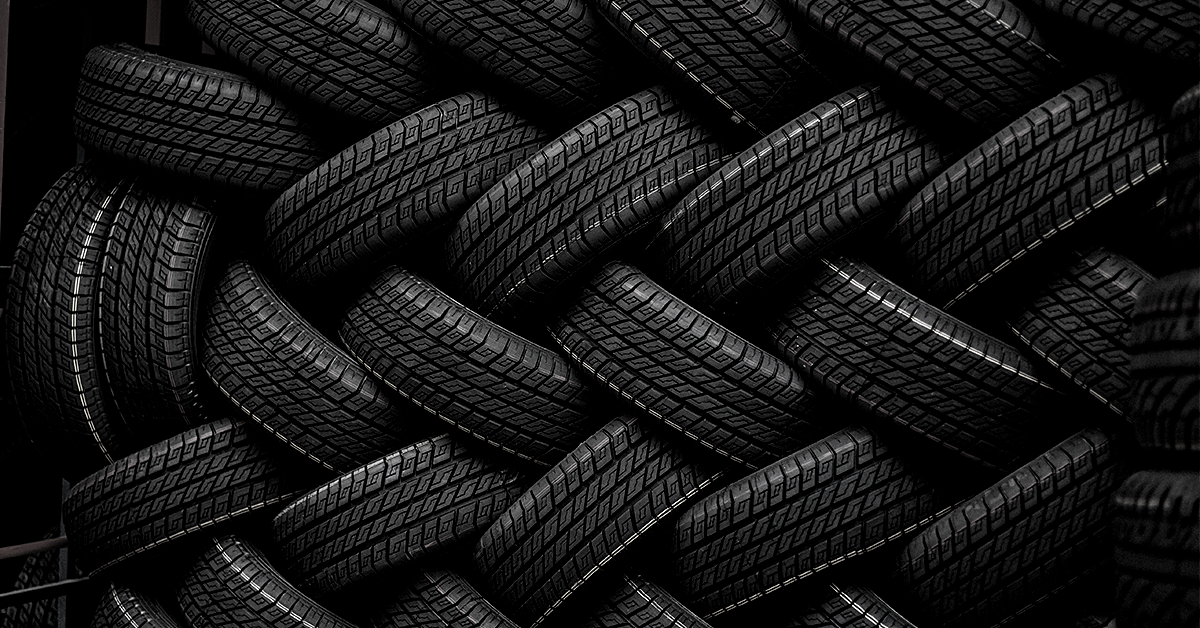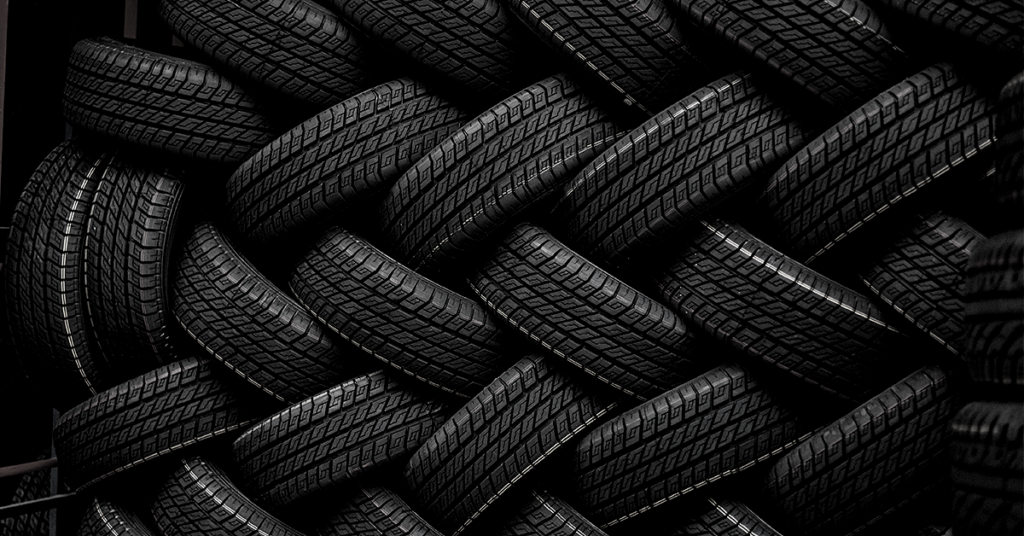 DOT stands for Department of Transportation, and the DOT number reflects the date when the tyre was manufactured and more. You can find the explanation of the code below.
So, how do you read the DOT?
The history of the DOT number started in the USA. This code represents that the tyre has been manufactured in conformity with the standard of the Department of Transportation.
According to regulations, the tyre identification number must begin with the letters DOT, followed by 8 to 13 characters. They may include a manufacturer's code, the place where the tyre was produced, the batch, a tyre-specific code (4 × 4, high speed,etc.) and more. The most important part of this code is the date on which the tyre was produced.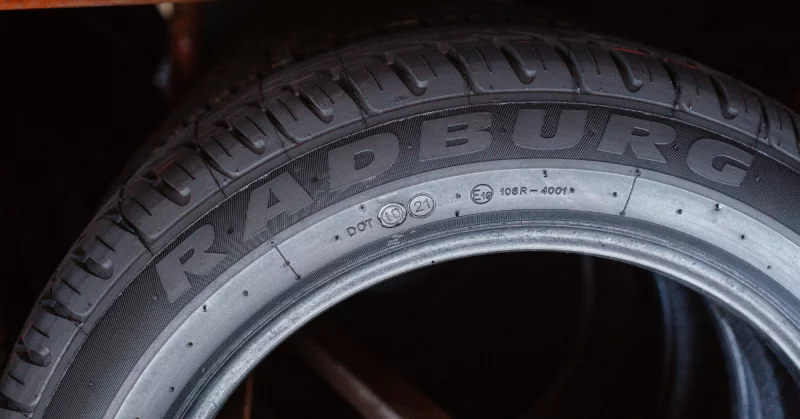 In the picture above, the code is 1021 E19 108R-4001. The first two digits represent the week in which the tyre was produced (the 10th week) and the next two represent the year (2021). The E19 code is written on the tyres produced in Romania, and the remaining code is an internal one of Radburg company.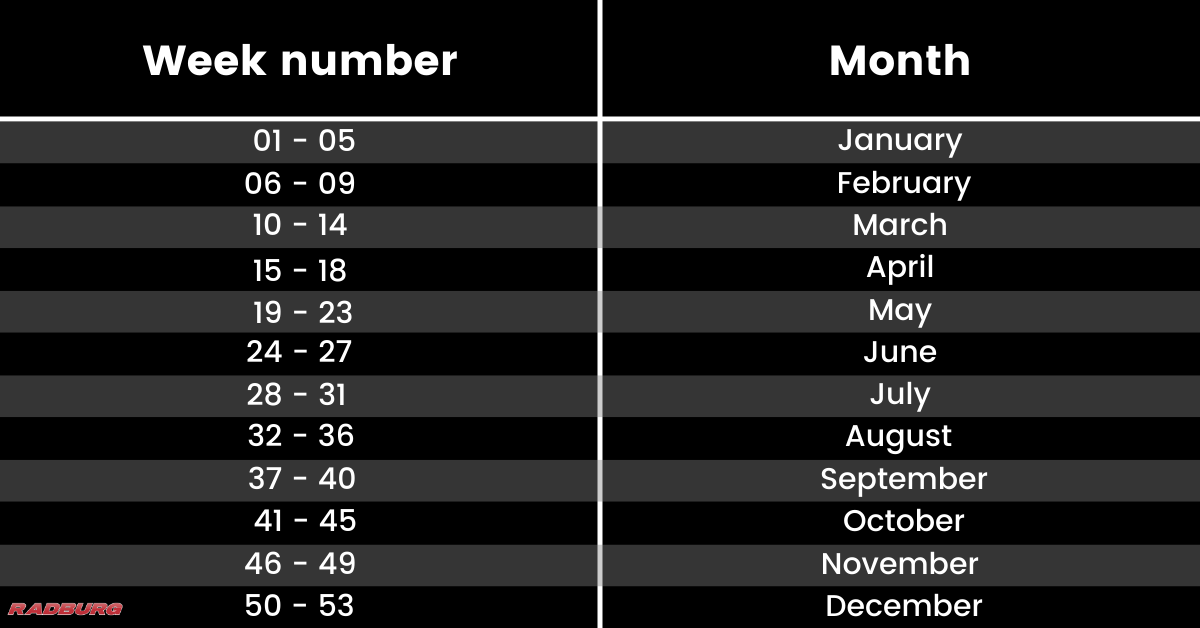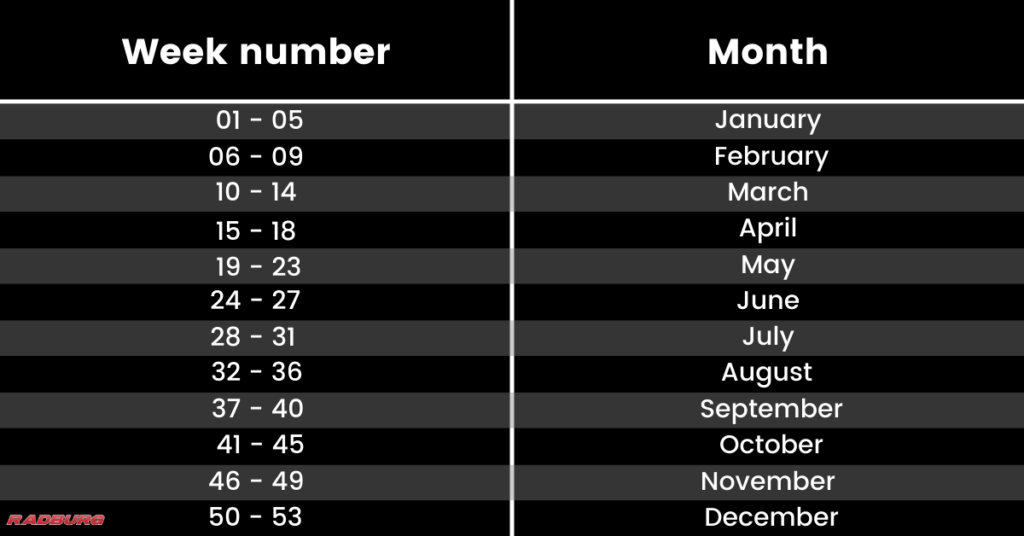 In the table above, you can see the weeks of each month, so you can easily correlate them with the month.
Where is it located?
Most of the time, the DOT is written on the interior side of the tyre, depending on the way the tyre is mounted.
Why is the DOT important?
In Romania, drivers pay attention to the DOT for the wrong reason, it is commonly understood that the DOT is similar to an expiration date, but this could not be farther from the truth. Michelin's experts say that a recent DOT does not mean the tyre is better. A tyre really starts to age after it is mounted on the vehicle, because then it is exposed to much harsher conditions: driving on different terrains, speed, braking, sun, water, pressure, different temperatures and much more.
If the tires are unused but stored properly, they age much harder, maintaining their properties for many years. They recommend that we pay more attention to the services offered by tyre sellers, once purchased, pay close attention to how we store them to extend their life.
If you want to know more about how to extend the life of your tires, here are some tricks.
Don't forget to follow us on social channels Facebook, Instagram, LinkedIn, Tik Tok, Pinterest and Youtube and share the article 😉